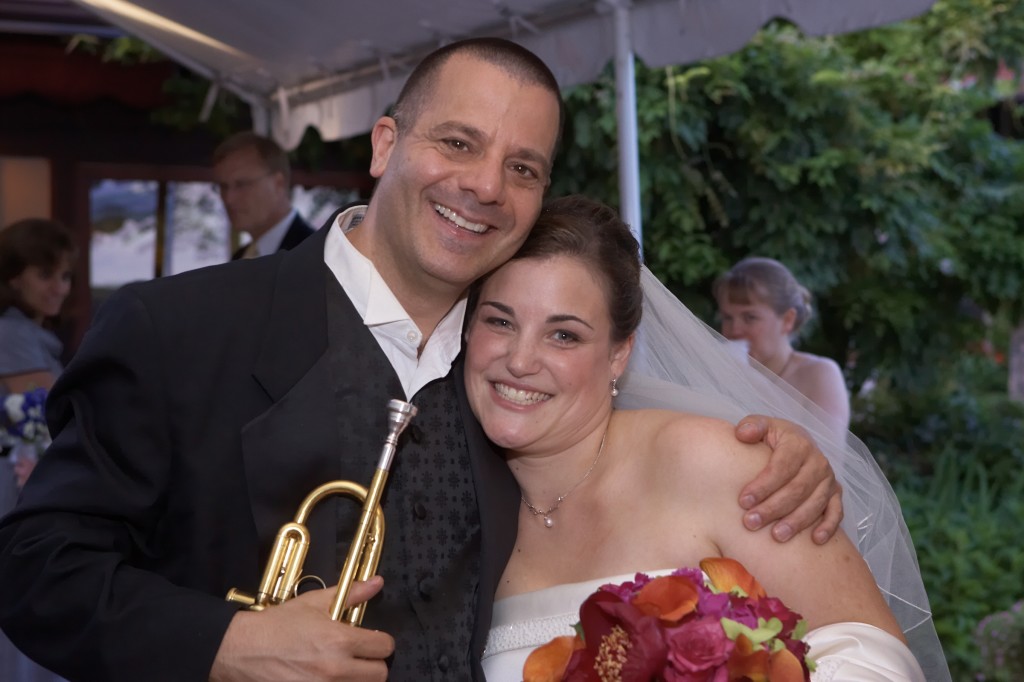 Great music will uplift your spirits as well as those of your families and guests. You will need music for your ceremony, cocktail hour, and reception (and perhaps rehearsal dinner). We can offer you as much or as little as you will need for your special day.
You and your guests will be able to have conversations over our music – we play at a reasonable, comfortable volume.
And yes, your family and friends will all dance the night away!
Wedding Ceremonies
Music considerations for your wedding ceremony:
Prelude Music (as your guests arrive and await the ceremony)
Bridal Party processional(s)
Recessional
Would you like your music to be traditional in style using classical music?
Trumpet Voluntary (Clarke)
Here Comes the Bride
Trumpet Tune (Purcell)
Hornpipe (Handel)
(there are many other possibilities)
Would you rather your ceremony music to be a bit more upbeat and 'jazzy'? There are hundreds of possibilities of jazz standards by such artists as Frank Sinatra, Cole Porter, and George Gershwin.
Some of our most requested are All of Me, 'Deed I Do, Sweet Sue, 'S'Wonderful, What a Wonderful World, LOVE, and I Can't Give You Anything But Love.
Another option is using music from artists like The Beatles, Elvis Presley, James Taylor, Van Morrison (Can't Help Falling In Love, Crazy Love, In My Life, All You Need Is Love).
Wedding Cocktail Hour or Cocktail Party
For your cocktail hour you will want start the party with upbeat, fun background music while your guests enjoy a drink and their hors d'oeuvres as they visit with each other.
We can offer you music options here as well. You can go with a mix of jazz standards and show tunes from the 1930s and 40s.
If you want to go in a different direction, we can provide music from the 50s, 60s, 70s, and 80s as well (be sure to see our sample song list on the repertoire page).
You can also request a mix of the various styles.
Duo: Crazy Love
Trio: Fire and Rain, Paper Moon, Route 66, The Boxer, Wagon Wheel
Quartet: Dixie Chicken, Me and Julio, Teeny Weeny Bit
Cocktail Receptions
If you are having a full cocktail reception, you might want to augment our trio by adding a drummer.
Once again, please refer to our repertoire page to show you our versatility.
Certain times of the year are very popular. Contacting the Hot Cat Jazz Band now will let you concentrate on all the other details of your wedding, knowing that your music is in good hands.
Listen to our music or contact us now!